Automata Magazine is pleased to offer these books in downloadable PDF format for purchase. Each book has been assembled from unabridged articles that have appeared in Automata Magazine over several years. Prices reflect the number of pages in each digital book.
Download these today by clicking the "add to cart" button at the end of each description.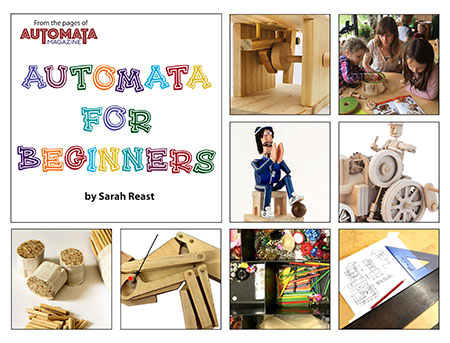 Automata for Beginners
by Sarah Reast

All of Sarah's popular columns up through the May-June 2022 issue have been compiled into this attractive book. Her practical wisdom on making automata is now available in one place. Included are chapters on wood, glues, cams, linkages, tools, different ways of achieving motion, and much more. Regardless if you're a beginner or a more advanced maker, there is a lot of valuable information in this volume.
64 pages
$19.95US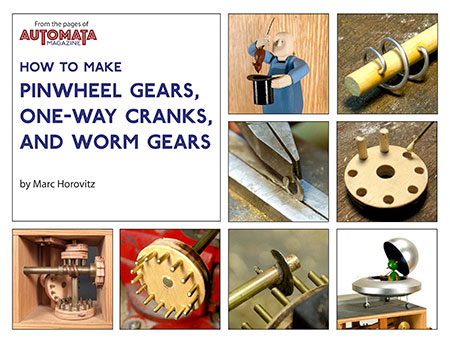 How to Make Pinwheel Gears, One-Way Cranks, and Worm Gears
by Marc Horovitz
Pinwheel gears are commonly used in automata. This book describes two methods of making them, step by step. Worms and worm gears for slow-speed action are described in detail, including a two-way worm. One-way cranks to prevent damage to automata are also covered. A description of how gears are used in a gravity-powered automaton finishes out the book.
27 pages
$9.95US